(US Start Attacks) Steps UK Chart News, Site Updates – 7th October 2001
---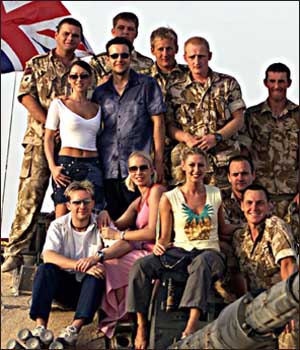 ---
Vote Daily! And Several times daily at that hehe :o) Steps at the Smash Hits Poll Winners Party http://www.pollwinnersparty.com and vote for Steps in all the categories that they can win in!!
From CNN:
(CNN) — The United States launched an attack on Afghanistan and its ruling Taliban on Sunday in retaliation for the September 11 terrorist strikes on New York and Washington.
"On my orders, the United States military has begun strikes against al Qaeda training camps and military installations of the Taliban regime," Bush said in a televised address at 1 p.m. Sunday. "We are supported by the collective will of the world."
A senior Taliban official in Kandahar said their command and radar systems at the Kandahar airport had been destroyed, but said the group does not rely entirely on that equipment, CNN learned.
The attack began with strikes at air defense installations around the Afghan capital of Kabul and the southern city of Kandahar, Pentagon officials told CNN. Witnesses in Kandahar told CNN that at least three explosions rocked the city, and power was out.
The U.S. action follows several weeks of demands that the Taliban hand over suspected terrorist Osama bin Laden, whom U.S. officials hold responsible for the attacks. The Taliban have refused those demands.
Bin Laden has been living in Afghanistan as a guest of the Taliban, the fundamentalist Islamic militia that rules most of Afghanistan, since they seized power in 1996.
More than 5,000 people are presumed dead after hijackers plunged fuel-laden commercial jetliners into the Pentagon and each of the World Trade Center's twin towers on September 11. A fourth jet crashed into a Pennsylvania field after passengers tried to overpower the hijackers.
The United States began moving warships, aircraft and troops to southwest Asia in the weeks after the attacks. At the same time, U.S. diplomats worked to assemble a broad coalition of nations to support an international campaign against terrorism, including its NATO allies, Russia, Japan and moderate Arab states such as Jordan, Egypt and Saudi Arabia.
The Bush administration began sharing the results of its investigation into the September 11 attack with key allies, including the NATO countries and Pakistan, on October 2.
The United States designated bin Laden's al Qaeda organization a terrorist group in 1999. The organization has maintained training camps in Afghanistan for several years, and those camps were the target of a 1998 U.S. strike after bombings at U.S. embassies in Kenya and Tanzania killed more than 200 people.
Bin Laden faces criminal charges in the United States in connection with those bombings, and testimony in the trials of four men convicted of those attacks linked them to al Qaeda.
Keep up to date with all the developments from BBC News, ITN News, Sky News, CNN, Fox News, CBS News. Also I will post developments on this on the site, mainly due to myself living in London (which can't be ruled out for any retaliation attacks) and this is a global effort against terrorism – I think President Bush mentioned that the US and UK Forces where behind these opening attacks.
Anyway on the Steps front!
Here's a picture from Ananova with Steps in Oman!
In the new UK Charts announced today Chain Reaction fell down two places to number four on the UK single charts! Must have been an offer on somewhere as Steptacular re-enters the album charts at number 81! Also thanks to Mike for sending in the Irish Chart position who informs me that Chain Reaction has dropped down 2 places also down to number 10!
Our book competition winners have been notified and they have all replied! Your addresses have been sent to Virgin Books – I'll ask them when you should receive them! Anyway our five winners where:
Jenny Mitchell
Claire Martyr
John Riley
Andrea O'Brien
Andy Horton
Well done!!
Yes I am aware that the video section hasn't been updated for a while. It will be updated very shortly indeed! Sorry for the delay in updating that section! We are also in the process of updating the pictures pages also so expect a big update for that section also in the near future!