Claire reveals second solo album Euphoria
---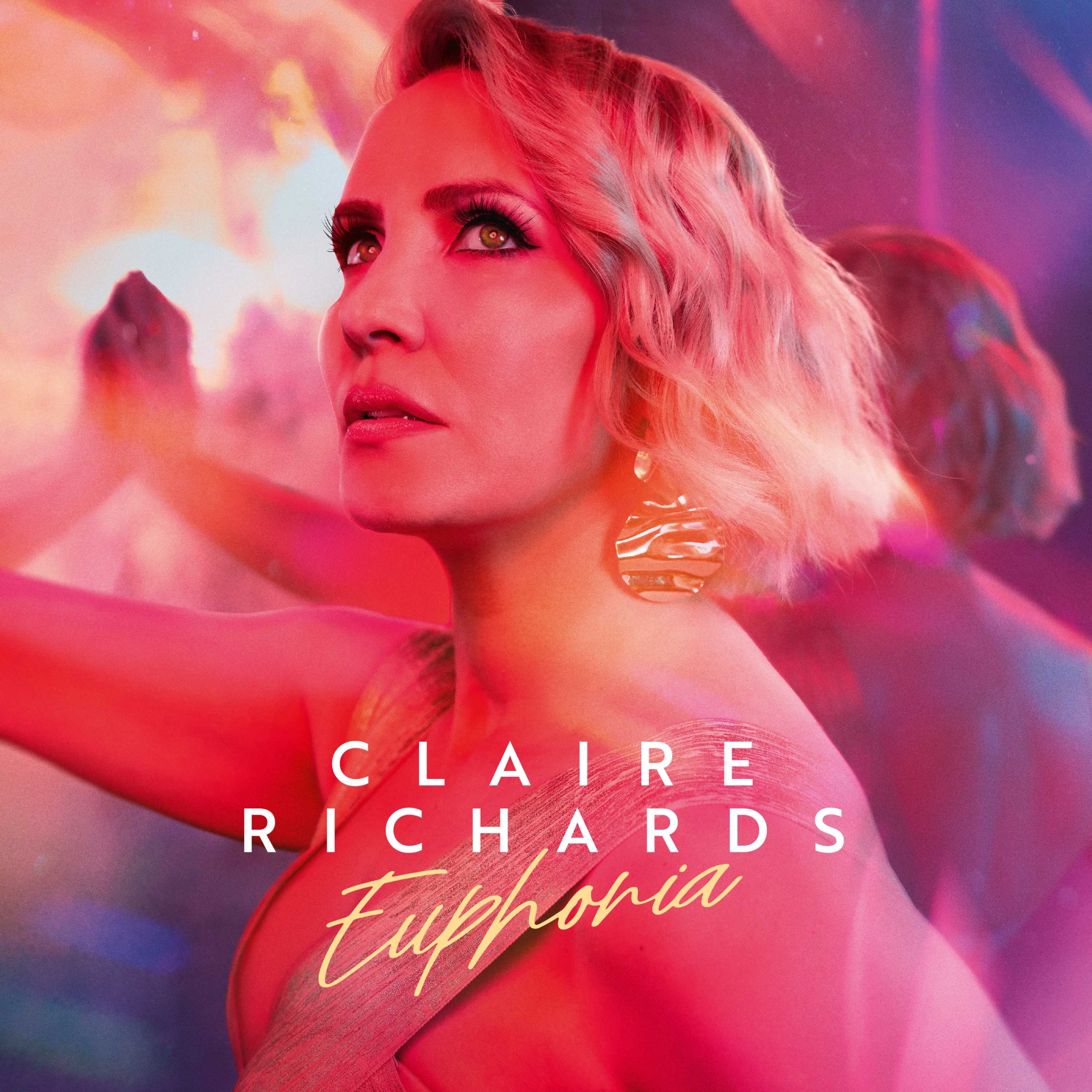 ---
Claire Richards has released a surprise single – a cover version of Celine Dion's I Surrender, which Claire performed on the Steps Ultimate Tour in 2011.
The song will be featured on Claire's second solo album, a collection of cover songs and duets. The album will be called Euphoria after the hit by Eurovision winner Loreen.
The track list for the deluxe edition is:
Euphoria – 3:34
Song For The Lonely – 3:21
No More Tears (Enough Is Enough) [feat. Delta Goodrem] – 5:01
So Emotional – 3:44
I Surrender – 4:09
Summer Night City (feat. Andy Bell) – 3:24 – expected July 26.
This Time I Know It's For Real – 2:45
Never Trust A Stranger – 3:40
Gloria – 3:16
Never Knew Love Like This Before – 4:02
Love Is A Battlefield – 3:51
Xanadu – 3:25
Goodbye To Love – 2:44
I Surrender (7th Heaven Remix Edit) – 4:24
No More Tears (Enough Is Enough) [feat. Delta Goodrem / Extended Disco Mix] – 6:14
Never Knew Love Like This Before (Mastercuts Extended Mix) – 6:31
Song For The Lonely (7th Heaven Remix Edit) – 4:21
So Emotional (Le Flex Poolside Remix) – 3:47
Euphoria (Orchestral Mix) – 3:34
The full press release:
CLAIRE RICHARDS ANNOUNCES "EUPHORIA" ALBUM AND RELEASES NEW SINGLE "I SURRENDER"

Claire Richards is back with a bang this Summer, with the announcement of her second solo album, Euphoria, and the release of her new single I Surrender, out now.

The album, out 25th August, can be pre-ordered here and I Surrender can be streamed/downloaded here.

One of the greatest and most unmistakeable voices in British pop, Euphoria brilliantly showcases Claire's powerful and stunning vocals on a lovingly curated collection of covers of songs by female singers who have helped shape Claire as an artist and singer. The title – and sense of intense pleasure it promises – captures what the album means to her and what she hopes it will mean to fans. "Every single song is a banger – listening to this album just makes me feel good," she says. "I want everyone to whack it on before they go out and get themselves completely in the zone of having a good time".

Euphoria sees Claire celebrating Celine, Whitney, Cher, Donna, Olivia and her idol Karen Carpenter. The album is almost entirely uptempo and was produced by long-time collaborator Steve Anderson (also known for his work with Kylie, Britney Spears and Girls Aloud). Wanting to find songs she could really make her own, the album features stunning renditions of Song for the Lonely (made famous by Cher), This Time I Know it's for Real (Donna Summer), Xanadu (Olivia Newton-John), Gloria (Laura Branigan), Never Knew Love Like This Before (Stephanie Mills) and Love Is a Battlefield (Pat Benatar). The album also features a couple of electrifying duets. Claire joins forces with Erasure's Andy Bell for a rambunctious cover of Abba's Summer Night City and Australian pop queen Delta Goodrem for a vocally show-stopping cover of No More Tears (Enough Is Enough), a hit originally made famous by Barbra Streisand and Donna Summer. Full tracklisting is below.

The first single, Claire's sublime, club-ready version of Celine Dion's I Surrender, is very much a case of unfinished business. She first performed it as a solo number on Steps' 'The Ultimate Tour' in 2012, but until now, never found the right time to record it. "I also sang it during my 'Claireoke' sessions in lockdown, so fans have been asking for a recorded version for a while," she says. Claire previously supported the Canadian superstar in Hyde Park in July 2019.

Claire will also be playing around the UK at some of the biggest Pride festivals, including Manchester and Brighton (with her Steps bandmates). She also recently headlined Liverpool's Eurovision Village in May performing right before the grand final, and closed her set with the album's title track Euphoria, arguably the greatest Eurovision song of all time. Full tour dates below.

Claire released her debut album, My Wildest Dreams in February 2019, a gleaming collection of original pop songs, which entered the Top 10 of the Official Albums Chart. Claire has also received much success and acclaim as 1/5 of Steps, one of the UK's most successful and loved pop acts. The band have scored multiple number one albums (including last summer's #1 album Platinum Collection) and regularly sell out arenas around the country. Their hits include the #1's Heartbeat/Tragedy and Stomp, epic comeback singles Scared Of The Dark and the Sia-penned What The Future Holds plus enduring classics One For Sorrow and Deeper Shade of Blue.