Some people say pop music exists only in the moment. They say that no matter how glorious the song, how energetic the dance move or how bright the outfit, pop exists one moment and is gone the next. That's partly pop's genius, of course: it engulfs specific times and feelings and buries miniature time capsules which, when unearthed by a shuffling music library or a nostalgic radio show, bring memories, emotions, people and places flooding back. But what if pop didn't have to stay in the past? What if somehow it found a way to come back, as great as ever, making sense to the people we are now just as powerfully as it made sense to the people we were twenty years ago?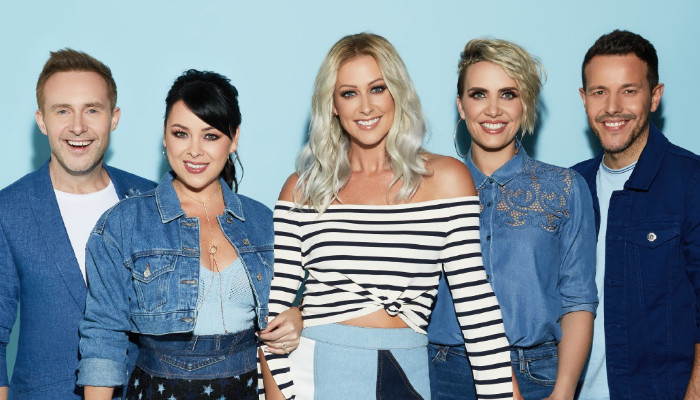 ---
"This," states Lisa Scott-Lee, "is the album I've wanted Steps to make for twenty years. I reckon it's the album our fans have been waiting for, too." She's talking about 'Tears On The Dancefloor', the extraordinary new album Steps have recorded to mark Steps' twentieth anniversary — and she's not wrong. From the super-charged pop drama in the opening bars of comeback single 'Scared Of The Dark' and the sophisticated sheen of 'Happy', to majestic dancefloor anthem 'Neon Blue' and the pensive perfection of the defiantly upbeat 'Space Between Us', 'Tears On The Dancefloor' is an end-to-end pop extravaganza and a fitting way to for Lisa, Claire Richards, Faye Tozer, Ian 'H' Watkins and Lee Latchford-Evans to mark twenty years at the epicentre of British pop.
"It's all been a bit scary," Claire admits. "But it was such an interesting process, asking ourselves the question: twenty years on, what does a Steps song sound like in 2017?" Some of pop's biggest songwriters have helped the band find out: among them Ina Wroldsen (Calvin Harris, Britney Spears), Steve Mac (Jess Glynne, Little Mix), TMS (Years & Years, Sigma), Carl Ryden (The Saturdays, David Guetta), Fiona Bevan (1D, 5SOS) and Metrophonic (Take That), all under the expert stewardship of producers The Alias, who've brought in fresh, state-of-the-art production while staying true to the sound that made Steps the UK's most successful mixed-sex group of all time. For Steps, top quality songwriting has always been front and centre, with original songs like 'One For Sorrow', 'It's The Way You Make Me Feel' and 'Stomp as well as smartly-chosen covers like 'Tragedy' and 'Last Thing On My Mind'. Following the record-breaking success of debut single '5,6,7,8', Steps went on to achieve an unbroken run of 14 Top 5 singles (including three Number Ones), two 4x platinum albums and one 5x platinum album, Steps notched up 20m record sales and pulled off seven sold-out arena tours.
After going their separate ways in 2001 they band were back at Number One a decade later with their 2011 hits compilation 'The Ultimate Collection', and back in sold-out venues with the 20-date 'Ultimate Tour', but 'Tears On The Dancefloor' marks the band's first full album of original material since 2000's Buzz. For the band's loyal fans, it'll have been worth the wait. "Working on this album has been a very natural, organic process and we've loved every minute of it," Lisa adds. "We initially met up last year just to find out where everybody's heads were. It was a process of going round the table, individually, asking: do you want to tour? Would you want to do music? Would it be a single, or a whole album? It was about establishing comfort zones, but we discovered that yes, it was time for new music. And we wanted to do something special."
Claire picks up the story: "When we came back in 2011 it was more about our greatest hits, but doing that again felt like a bit of a cop out considering fans have been constantly asking for new material." During 2016 the band played a closer role than ever before in selecting the right songs for the album that would eventually become 'Tears On The Dancefloor'. "We had long conversations with our new producers," Lee recalls. "It was very important for us to have a hint of the past but to try to blend it into modern day music. It was a challenge, but The Alias knew exactly what we were going for — and I think we pulled it off."
Lee adds that when he turned up for the first Steps audition two decades ago, he had little idea what he'd be letting himself in for. Steps had inauspicious beginnings: in 1996 a couple of songwriters noticed that people in linedance classes were dancing to Kylie rather than country, and decided to form a band. "I wasn't sure what I was getting myself into," Lee recalls. "It wasn't a label audition with millions in the bank and instant red carpets. It was one song without a record deal. We had to find the deal, we had to play the endless nightclub shows. I was homeless while we were doing those dates, but then very quickly Steps took on a life of its own." The band's unashamed brand of Technicolor pop wasn't exactly embraced with open arms at a point when the media were still trying to wring the last drops out of Britpop, but Steps connected with and nurtured a huge, loyal fanbase and the rest was history. "It's always been about he fans," Claire smiles. "Without them we wouldn't be here. And we did survive despite the industry's best efforts. We must have been doing something right."
Back in the day Pete Waterman described Steps' sound as "ABBA on speed". These days, Lee laughs, "we're more like ABBA on Nurofen — your joints ache more as you get older", but the ABBA influence is still there on 'Tears On The Dancefloor', particularly in the band's take on 'Story Of A Heart', a recent Benny Andersson song which slipped under the radar in 2009 despite being easily as good as a full-blown ABBA song. It's a song that, during the recording sessions, struck an unexpected chord for Lisa. "I was reading through the lyrics before I went in the vocal booth," she recalls, "and I found myself immediately connecting to them. They're about someone who's been a rock in your life for a long time. I was thinking of my husband Johnny, who I met through Steps, and my kids; I was thinking about my friends in the band. Steps has been the best and biggest part of my life. My dreams came true. 'Story Of A Heart' felt like the story of my life."
As well as the riotous, bombastic lead single 'Scared Of The Dark', the band are also big fans of new song 'Neon Blue'. "It's about letting yourself go with the person you care about," Lee notes. "It's about the feeling of being surrounded in the warm neon glow of a dancefloor where worries really do drift away, even if it's just for three minutes. And yes, times have changed since the first Steps album, but people wanted to have fun back then and they want to have fun now too. I don't think that's ever going to change."
"I think Steps is a little bit of what everyone needs right now," Claire agrees. "Over the years so many people have told me about how Steps records got them through difficult times in life, from coming out, to experiencing serious illnesses. Everyone needs an escape somehow — when I listen to music I want it to make me feel something, whether it's happy or it's sad." Or in the case of the best Steps songs, both at the same time. "We tricked quite a few people in our time," Claire laughs. "'One For Sorrow' is one of the most depressing songs ever but put five cheery people dressed in white and it seems like loads of fun."
The band announced their 20th anniversary plans on New Year's Day 2017 with a huge performance at G-A-Y, the club night that's played host to the band on countless occasions over the last two decades. At that point news of new material was still under wraps, but the band were relieved to find out there was huge demand. "The response was phenomenal," Lee recalls. "We hadn't said anything to the fans about the new album but it instantly went crazy on social media. One thing people are saying is that they need light hearted, fun, happy music back. The feedback has been: 'with everything going on in the world, we need this right now'."
The familiar feeling of being in the studio together has been cathartic for the band, too. "When we went our separate ways in 2001 we all had to rethink everything," Lee reminisces. "You ask yourself what's going to happen next, where do I go, who am I, what do I want in life? Then you find yourself as you get older, and it's nice to come back to where it all started. When we get in the studio together, even if it's been years apart, it's like we've never been apart and nothing's changed. That's a pretty good feeling."