Steps get their own pasta shapes
---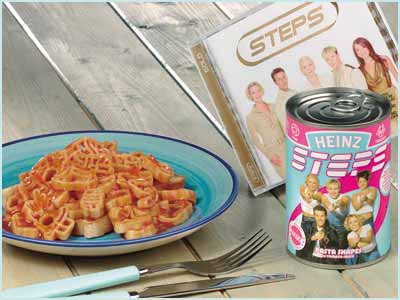 ---
From BBC Online / Radio 1:
Stepz meanz Heinz

The marketing gurus at planet Steps have been working overtime, and come up with pasta shapes based on the band's dance moves.

The tins of Heinz pasta features six shapes – including a star, a pose from 'Tragedy', a dancing foot, a hand expression from 'One For Sorrow', a musical note and the word Steps – in the traditional tomato sauce.

The band are currently on tour and their new single Words Are Not Enough is out this week.
Channel 4 Text have predicted Steps to be a #2 entry on this weeks charts…
From Ananova:
A range of Christmas cards autographed by celebrities are being auctioned online. Participants include Steps, S Club 7, A1, Ant and Dec, and the judges from Pop Idol. All proceeds will go to Woolworths Kids First which supports community-based children's projects nationwide. The eBay sale is live on the site until December 10. Woolworths Kids First manager Trevor Dahl said: "This auction on eBay is a once in a lifetime opportunity to receive a very special Christmas card this year. "We are extremely grateful for the support of the celebrities involved and we look forward to some heated bidding for the cards so that even more funds will be raised for the charity this year."